Immigrants.
Right now, in the UK, it appears to be a dirty word.
A taboo word.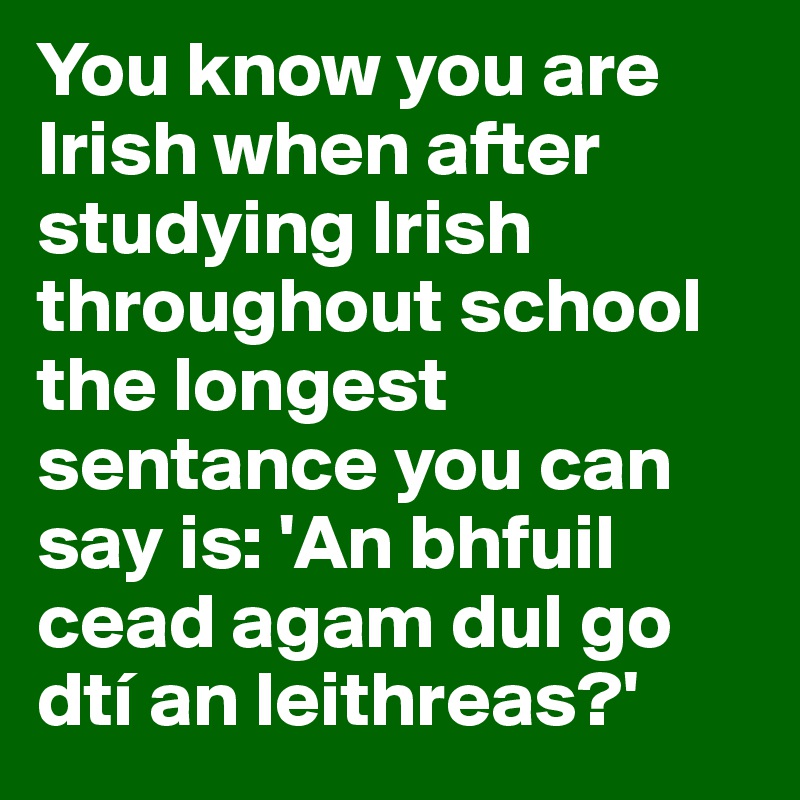 Well guess what.
I am an immigrant.
I am a proud immigrant.
I have heard countless times over the past few weeks that I don't count as an immigrant because I am an Irish person living in the UK.
I assure all you doubters out there, I am an immigrant.
I am Irish.
I have no intention to renounce my nationality.
I am proud of who I am and where I came from.
I say 'banjaxed' when something is broken
I plug things out rather than unplug them
I have to remind myself that household objects are stored in a cupboard, not a press
My dream of heaven is a bag of cheese and onion Tayto and a bottle of club rock shandy.
My favourite meal is bacon and cabbage.
A bit of chowder and brown bread (soda bread to my UK friends) is my go to starter back home.
I teach people how to say 'An bhfuil cead agam dul amach go dti an leithreas?', for the craic of it.
I love watching a bit of hurling, and gaelic football if it is the All-Ireland final.
I assure you. My heart is a heart full of Irishness, even if my accent now leaves a lot to be desired.
I also love my adopted homeland of Scotland.
I miss haggis in my fry up when I am in Ireland
I get half cut on Brewdog and sing Caledonia as though my life depends on it.
I appreciate the value of Irn Bru
Occasionally I forget myself and I say 'Doll, or hen' when I'm talking with my pals.
Sometimes when texting 'my' becomes 'ma'. 'Out' is 'oot' and 'I know' becomes 'Ken'
Scotland has given me a lot of opportunities.
Scotland has given me a lot of friends.
I am a richer person for having the experience of being an immigrant.
I have never taken from the state, but I have paid a lot in taxes.
I have used the NHS twice but I pay for it monthly.
It doesn't bother me because I know that it is there if I need it.
I know that it is there if an old person or a child needs it.
It is me playing my part in the community, in my adopted country.
My life so far has been one of exposure to other cultures through either my own travels or those who I have met from abroad.
I dated a man who had a French mother for over three years. Not only did I learn how to swear like a trouper in French, I also learnt a beautiful language. One I still try to use when I can. I discovered a love of amazing cuisine and better wine, I was introduced to my favourite flavour of 'fruit de passion' as we hiked across a french town in blistering heat so he could get a bottle of passion fruit syrup. I discovered a whole world of cinema because of him, actors I would never have encountered. I discovered Maria Callas because of him and his mother. The relationship enriched my life.
I dated a Scottish man for over 6 years. We met while in Lithuania, we lived there for a while. We lived in Ireland together, and then in Scotland. I learnt of the treasure that is 'Oor Wullie' when the Christmas annuals would arrive in the door. Rab C Nesbitt was my sole TV viewing before I came to visit Scotland so that I could converse with his family without too much bother. I was introduced to Burns night, Hogmanay, First footers, neeps and tatties, square sausages and pizza crunch. I had six of the best years of my life because of immigration. I learnt a lot about Mormonism from his family.
Boatloads of people from the UK left for the US with the church and built the state of Utah as it is known today, with many other settlements between the east coast and Utah benefiting from their workmanship. While they were there, building their homes, it became legal to shoot a Mormon on sight as they were seen as a threat.
How many stories throughout history involve the movement of people?
So many of them do end up with tales of persecution.
Forget about the EU, forget about visas.
That is not what this post is about.
This post is about just people.
People moving, emigrating, immigrating, sharing, learning, being.
Why can't we just enjoy the experience, and the joy that such movement can bring?
I am not a fool.
I know there are bad eggs in every few cartons.
That doesn't mean we need to smash every egg laid in the coop.
That doesn't mean we should never eat eggs again.
It means we pop them in some water if in doubt and see if they float.
This egg analogy has gone out of control. I need to move on.
Immigration is a vital part of a well balanced society.
A lot of what we see as just 'the norm' comes from immigration.
How many of us have a takeaway at the weekend.
What do we go for?
Chinese? Indian? Thai? Pizza? Mexican?
Feeling a bit peckish in the morning?
Fancy a croissant? A pain au chocolat? A danish?
How about a cup of coffee? Or tea? Or hot chocolate?
These things became popular because they were brought to us from their homelands.
I think the thing that stands out for me from meeting so many people from around the world, is the stories that those people have shared with me.
Some were wonderful. Some were woeful.
I used to work with a man from South Africa.
His stories of what it was like to live there made me appreciate the securities I had become blind to in my ordinary life.
A man that I met in Bosnia taught me how important it is to treasure your life and your loved ones as he told me stories of living in Sarajevo during the seige.
A woman I met in Estonia left me humbled by her insistence to provide me with a warmer pair of gloves because my ones were too thin in her eyes.
A family I met in Lithuania shared their home-made wares, and stories of the iron curtain leaving me speechless as to how such a little nation could come together and overcome all that it did. Their monuments to those who died in the struggles made me realise how much they lost to do it.
A wee girl in Hungary taught me that 'kosonom' means thank you after I shared some chocolate with her.
An old man in Slovenia shared his kava with me when I wearily got off a bus and and went in search of food, and told me stories of life in Yugoslavia under Tito.
I don't really know how to finish this blog other than to reiterate that immigration is not a terrible thing. Immigrants are easy to point the finger at when things aren't going as well as you want them. Immigrants are an integral part of every society, often found doing jobs that people don't want to do, or people aren't eligible to do. Before we get frogmarched to the border, have a think about your friends, your colleagues, your family. Odds are, somewhere in their not so distant path lies a forgotten about immigrant who helped make the world what it is today. So perhaps rather than tell them to go home, ask them the most brilliant question in the world. 'What's your story?'
Oiche mhaith,
Lu