Today is the first official day of my holidays from work, and truth be told they couldn't come at a better time. I am tired, exhausted even and full of doubt about what my future holds for a number of reasons. So, I thought to myself, what a perfect time to write a list of thankfuls to remind me of all the truly wonderful things I have in my life.
1. I am thankful for my team at work. I have a store team of about 50 and a management team of 6. I don't particularly enjoy talking about work online, as it isn't really appropriate but I am so thankful for my team. Every day they are a fountain of support, and their enthusiasm never ceases to amaze me. They are my reason for going to work every day, and I count my lucky stars that I have been given the team that I have. They make the tough days better and the good days great.
2. I am thankful for my Cambridge Consultant, Claire. 4 weeks ago I started on a rather scary journey of self improvement. I found Claire, spoke to her about what was going on in my life and how and why I want to fix it, and from that moment on she has been the most amazing support. The weight is falling off, I am exercising every day, my mind is so much clearer and I feel so much better about life in general. I know this is the time I sort out my weight and my lifestyle. I am so grateful that I have Claire to guide me along the way!
3. Speaking of Claire, I am thankful for my friends. I am so lucky to have the people in my life that I do. Claire is like my own personal Little Miss Motivator, more of a sister at this stage than a friend. There are so many people who make me smile by their lovely little acts of kindness. Random bouquets of flowers, lovely little letters, paintings for my walls, participation at weddings, walks along the beach... each act makes me feel so loved and appreciated. Thank you all for your kindness. It means the world to me!
4. I am thankful for Tiff and Joe. This week I fly out to Utah to spend a week with two of my favourite people in the whole world. They have planned such an exciting week for me, and to top it off I get to spend Tiff's 30th birthday with her! I am so excited and so grateful to have two such wonderful people in my life. See you soon guys!!
5.I am thankful for Paddy. My dad. He is the greatest man I know. I love him from the bottom of my heart and am thankful every day that I get to call him Da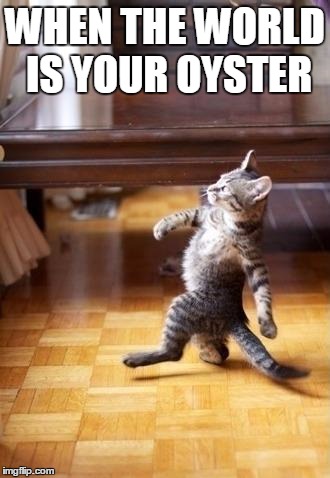 6. I am thankful for my freedom. This is a big one for me at the moment. I am at a crossroads and I haven't decided which road I want to take yet. I am hoping that this holiday will bring some clarity like it did the last time I went trans-Atlantic.I have nothing tying me down to any place and I am finally in a position where I have a few pennies in the bank. Whoop! Believe it or not (and
DO NOT
tell Paddy), I have been toying with the idea of whether or not it is time to return to Ireland. I am facing another Christmas alone in Aberdeen and I am more than likely going to miss a family wedding this December. Until quite recently I could see a point in being in this position but I don't any more. It is still only an idea and probably won't happen but I do really feel the distance at the moment. My other thought is maybe London. We will see.
7. I am thankful for the ridiculous amount of books that are sitting waiting to be read. I don't know what happened last month but I think my bookcase has pro-created. There just seem to be more and more books there every time I look at it!
8. I am thankful for flavoured green tea and flavoured sparkling water. These two wonderful things have allowed me to kick my fizzy drinks habit. It was tough but I did it!
9. I am thankful for Spotify. It makes my walks so much more fun.
10. I am thankful for my blind faith that I would fit into my old clothes again. Working my way through the wardrobe has been great craic! This weight loss malarkey is going to get expensive once I go down another dress size!
Happy Sunday everyone,
Lu xx